If you are looking for luxury living, Los Cabos, MX is certainly the place you should consider moving to. Pristine beaches, five star amenities, amazing Golf, Fishing and wonderful nature surroundings are just a few of the main advantages of Baja California.
In addition to that, there are stunning properties available on the market. Let's have a look at the Top 10 Oceanfront Luxury properties in Los Cabo (As of Q4- 2022)
South Coast 23 – A 20,500 sq. ft. Masterpiece
We could not start this list without mentioning one of the most iconic properties in Los Cabos Market. This 20,500 sq. ft. mansion is fully gated and provides an uncompromising lifestyle and an ultra luxurious ambiance.
This home has too many features to list them all. Enjoy your 2,600 sq. ft. ballroom, a golf simulator, a media room, 75 feet pool, a swim up bar, an outdoor bar with waterfall, 118 solar panels, a 6 car garage, Spa, Steam room, and oceanview sauna.
This mansion won't last long and it is a true masterpiece you don't want to miss out on.
The Beach Paradise – Luxury Living in Los Cabos at its Finest!
Located directly on the pacific coast, this gem is absolute indoor and outdoor paradise.
This property features an astonishing 29,259.45 square feet in the Diamante Cabo San Lucas
Community. Diamante homeowners have access to the TOP 100 rated Dunes Golf Course (#1 in Mexico) & Tiger's El Cardonal and Oasis Courses. The Legacy Club, coming in 2024 will boast another Tiger Woods championship golf course.
You will also get access to endless amenities: 10 acre Lagoon or enjoy tennis, pickle ball, basketball, beach volleyball, gym, spa, kids club, water park, recreational pathways, walk the endless beach, sunsets into the Pacific, 8 restaurants, sports bar, beach front bar, THE WOODS sports bar (Tiger's).
Love and Peace Villa – A Must See, One of a Kind, Mansion
This stunning property is the real definition of living on the edge. Designed on a cliff side, it combines luxury, great views and impeccable design.
Located on the iconic Caleta, Palmilla cliffside, this estate represents an unique opportunity for the right buyer. This one of a kind home has everything you have always dreamed of: Direct access to the ocean, infinity pool, 16,756 sq.ft featuring 6 bedrooms and 8 full bathrooms, two elevators and plenty of more perks that make this home a must see!
The home features two meticulous gourmet kitchens complete with custom cabinetry, Viking and Sub-Zero appliances, and Baja´s largest marble island.
Villa Peace and Love is sold partially furnished with the art, custom collections and cultural assets not included in the sale. For a limited time only, this estate is available for purchase.
3 Camino Playa – Your Personal Oasis in Los Cabos
This magnificent beachfront residence is one of the most extraordinary luxury beachfront homes for sale in Los Cabos.
The house has been built with a Tuscan style to it and it features 7,000 square feet over two stories. Both the interior (4 bedrooms and 4 bathrooms) and the exterior areas have been tastefully designed to make you feel at home. You will also be able to enjoy exquisite ocean views while relaxing in your impeccable garden,which is decorated to perfection.
This house feels like living in an hotel: A resort kind of custom infinity pool and jacuzzi, large terrace, lush landscaping, beautiful columns and stone works and large BBQ area, makes this part of the house the perfect spot to enjoy the sunny days, and to watch all the beautiful yachts passing by.
Camino del Pacifico, Casa SUR
This home is one of ten iconic beachfront properties in the Pedregal community in Cabo San Lucas. Casa Sur features 7-bedrooms and 7 ½ bathrooms in over 11,109 sq ft and it has been fully renovated in 2014.
Located steps away from some of the best locations in Los Cabos, Casa SUR offers an incomparable beach lifestyle. ne of the many features of Casa Sur is the floor-to-ceiling window in the living room that entirely opens so you can enjoy complete indoor/outdoor living
Villa A4 Via de Lerry – A Paradise Awaits at St. Regis Residences
This property is located in a Five Star resort and its residents will enjoy community living in an absolute private setting.
The property features 6 bedrooms and 6 bathrooms in a 17,022.32 square feet of living space. The outdoor area is built over a spacious 10,157.44 square feet patio and comes with all the bells and whistles that you would expect from a home in St. Regis.
In addition to all of that, this property is newly built and there will be nothing to upgrade. Just move in and enjoy what Los Cabos has to offer.
Casa Estrella – Ultra Luxury Living in San Jose Corridor
This stunning mansion is located along the cliff's edge of La Caleta. With 11,050.52 total square feet, 5 bedrooms and 5 bathrooms, Casa Estrella is an oceanfront jewel that is just awaiting the right owner.
Upon entering the gated entrance and descending the grand stairwell, you are welcomed to a courtyard with a cascading waterfall fountain. Lanterns flank the massive entry doors that lead you into a two-story vaulted living area, showcasing a floor to ceiling stone fireplace.
This property is an absolute must see for anybody looking for the best living experience in Los Cabos.
9 Rancho San Lucas – Luxury Oceanfront Living in Rancho San Lucas
This ready to move in property is second to none. Located steps from the ocean and home to some of the nicest golf courses in the area, residents of 9 Rancho San Lucas will enjoy countless amenities while living in the privacy of their own oceanfront villas.
This single story property has a total of 8,282.83 square feet of living space and features a chef's kitchen, large entertaining spaces, beautifully appointed and airy bedrooms.
Casa Blanca – Oceanfront Gem at La Laguna
Imagine falling asleep with the sound of the waves from your private beach and you will understand why Casa Blanca is such an unique property!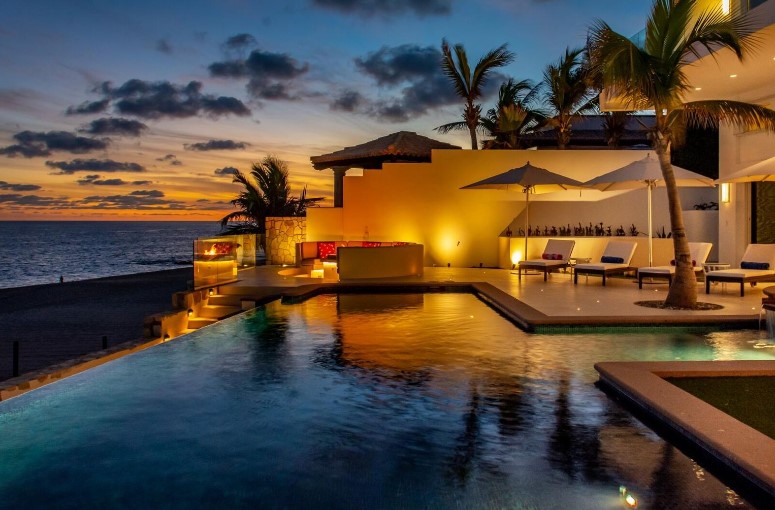 Located steps from a pristine beach, this home features 30 ft. ceilings in the great room, 14 ft. ceilings in the kitchen, quartz countertops, gourmet kitchen, media room, office rooms and plenty more things that make Casa Blanca just perfect
This home has been fully remodeled and updated with new kitchen added in 2015.
Villa Blue Sea – Your Beachfront Dream in Los Cabos
Villa Blue Sea is the luxury beachfront escape you have always dreamed of. This tastefully designed masterpiece has ocean views all around and the beach is literally the continuation of your patio!
Perfectly situated in the middle of Cabo and San Jose it's just a short trip either direction to take advantage of all the incredible benefits Los Cabos has to offer. The home features 6 bedrooms and 5 bathrooms and extends over 8,930 square feet.
So there you have it Top 10 Oceanfront Luxury properties in Los Cabos as of (Q4- 2022) Keep in mind this stunning destination offers Real Estate opportunities at a variety of price points. Contact us today to learn more about about how we can help you find the perfect vacation and investment property today.